NB
: "J Crew Model" is one of our brand new writers! After a rigorous application and screening process, we have determined that he possesses the language-skills and journalistic integrity to join the UVA Law Blog community. Wish him luck as he writes his way to stardom on UVA Law Blog and laughs all the way to the bank. - Rule 12(f). And don't forget to vote!
Yahoo has created a
list of the most recession-proof careers for the upcoming
year
, also known as The When Obama the Savior Fixes the Screw-Ups of His Predecessor (and Congress; and bankers; and Iraqi policemen…). While the list probably makes "sense" and comes about by authors having done "research" and "interviews," it so clearly lacks credibility that I must counterspeak. Or make counterspeech, if you will. For instance, half of the jobs promising endless riches are law related: prestigious careers as case clerks (zero to two years' experience; $32,000-$41,000), junior paralegals (two to three years' experience; $40,500-$49,200), legal receptionists ($26,750-$38,000) and office clerks ($27,000-$37,250) assure "make-it-rain" paychecks. Law student, oddly enough, didn't make the list (-$55,000-$0). Nor did lawyers. How can an industry be doing so well if its practitioners are doing poorly? It can't. Hence, my off-the-cuff revised list of the top recession-proof careers of 2009.
8. Town drunk
– Who needs dignity or self-respect or non-public places to wash the dirt out of your beard where you can stay pickled and gloriously oblivious to a crashing economy (world order). Since your expenses will consist of alcohol and non non-alcoholic drinks, your assets maintain optimum liquidity. (Get it, liquiditiy?). And when the Virginia ABC permits you to buy something called Bowman's Rum for only $9.25 a liter and Schlitz six-packs go for a mere $3.99, everyone can afford this simple and idyllic lifestyle.
The rub

: I mentioned you live outside, right?
7. Repo Man
– In these times of 100,000 jobs lost in a month on the heels of negative consumer savings, there are going to be some Joe Schmoes out there unable to make the payments on their 2007 BMW M3s. The bank promises you a quick $200 and you haul off some dude's car at 3 a.m., all the while hoping he's the kind of drunk who gets apologetic and teary-eyed rather than trigger happy when a stranger helps himself to his stuff.
The rub

: TRIGGER HAPPY!!!! Also, you have to put some stupid saying on your truck like "See Ya!" as if towing somebody's car isn't quite enough insult.
6. [Law school] tenured professor
– After 6 years of higher education, I know that these guys have some cushy and high-paying jobs. Here's my rough guestimate of a tenured professor's daily routine.
10:00 – 11:25: Get to school. Answer some email from students whining about their grades and/or your lack of office hours. Get lost staring at the impressive number of books on your shelves. Bonus points if you have written some of them.
11:25 – 11:30: Class prep. Don't strain yourself.
11:30 – 1:00: Say intelligent or intelligent-sounding things to impressionable and ignorant twenty-somethings. Pretend you don't like the attention when the coeds hang on every word that you're saying.
1:00 – 3:30: Lunch.
3:30 – 3:45: Try to find some reason of staying in your office. Failing at that, scurry to your car all the while congratulating yourself for staying within 15 pounds of your college weight.

The rub

: Getting tenure requires a lot of boring publication and a Bismarckian mastery of college politics. Richard Daley and Fiorello La Guardia probably started their careers as associate professors, but quit when they found the tenure process "too political."
5. Home-engineer
– Stand tall and proud ye educated men of the world and take your rightful place as the engineer of your household. You'll rise early, make Pop Tarts for breakfast, then drop your kids off at school. From there, you get 7 hours to do one or more of the following before the kids come home:
(1) walk the dogs
(2) watch Sportscenter 2-5 times
(3) refine an opium habit
(4) Swiffer the kitchen floor (poorly)
(5) "accidently" order a soft-core porn and fall into it due to the intriguing plot elements ("Why is she doing pilates in high heels and a trench coat?")
(6) write bad novellas about your five month study abroad experience in Australia.
The rub:

Being bad at this job is constructively the same thing as living at your parents' house when you're 35.
4. Pay day loan business operator
- We all know that class warfare is the real war of our time. Wage ferocious battle on the front-lines, screwing working class families with preposterously high interest rates and unpayable terms who are irresponsible enough to be poor and have children that get sick. Added benefit – their children won't have the resources to compete with yours for a dwindling number of slots in higher education after you've charged $12,500 in interest on a $200 loan.
The rub

: Pesky state legislatures that keep trying to cap interest rates. Don't they know we conquered usury a long time ago?!
3. Being French
– Yeah I know that "being French" isn't a career. But it should be. Between their relatively short work-week, high life expectancy, generous safety net, universal health care, and a not-government owned housing market, France is looking more and more like the land of opportunity.
The rub

: Winless record in international conflicts since Napoleon. Spotty history with colonies. France rhymes with underpants. General wussiness characterized by thinking that dress pants and working out are not mutually exclusive.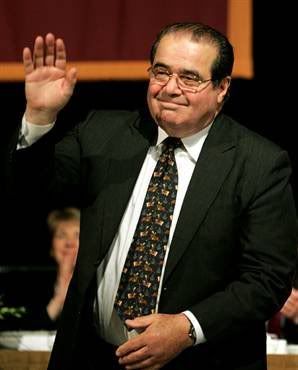 2. Associate Supreme Court Justice
– You make the supreme law of the land and are accountable to nobody unless you're a bad boy and engage in bad "Behaviour." The pay is quite good - $208,100 last year. Plus, each judge gets a fleet of clerks to do all the "work" parts of the work - the research, writing, and cite-checking. All you do is put on a black robe and play God for nine months out of the year. The other three months you spend ghost-writing your next biography, brow-beating little people asking impertinent questions, and receiving honoraria ($$) from institutions you've never heard of before.
The rub

: Only 8 openings. Odds favor old white men.
1. Professional basketball player
– You travel the United States (or if you aren't that good, Europe or Russia or Israel) playing a game for a boat-load of money. And once you sign your name to the contract, you get your money regardless of performance or drug addiction. Sure, the travel might wear you down, but your daily routine consists of the following during the season.
9:00 – 9:30 – Wake up; check text messages from groupies; tell your posse to arrange something for the evening.
9:30 – 11:30 – Drive your Escalade (on 22s of course) to the arena for shoot-around. Shoot-around.
11:30 – 1:00 – Drive Escalade home and take afternoon nap. Eat 5 chicken breasts prepared by professional chef.
1:00 – 2:00 – Nap.
2:00 – 3:30 – Watch Scarface for the 3rd time this week. Wish you owned a tiger.
3:30 – 6 – Drive NSX to arena. Get leg massage for sore hamstrings.
6:00 – 8:00 – Play game. Do the Sam Cassell dance after hitting game winning 3.
8:00 – 12:00 - ??????
12:30 – 1:30 – PROFIT
The rub

: Short career. Child support. Microfracture surgery. Requirement of getting 12-15 asinine tattoos.